Reading Time: 10 Minutes Only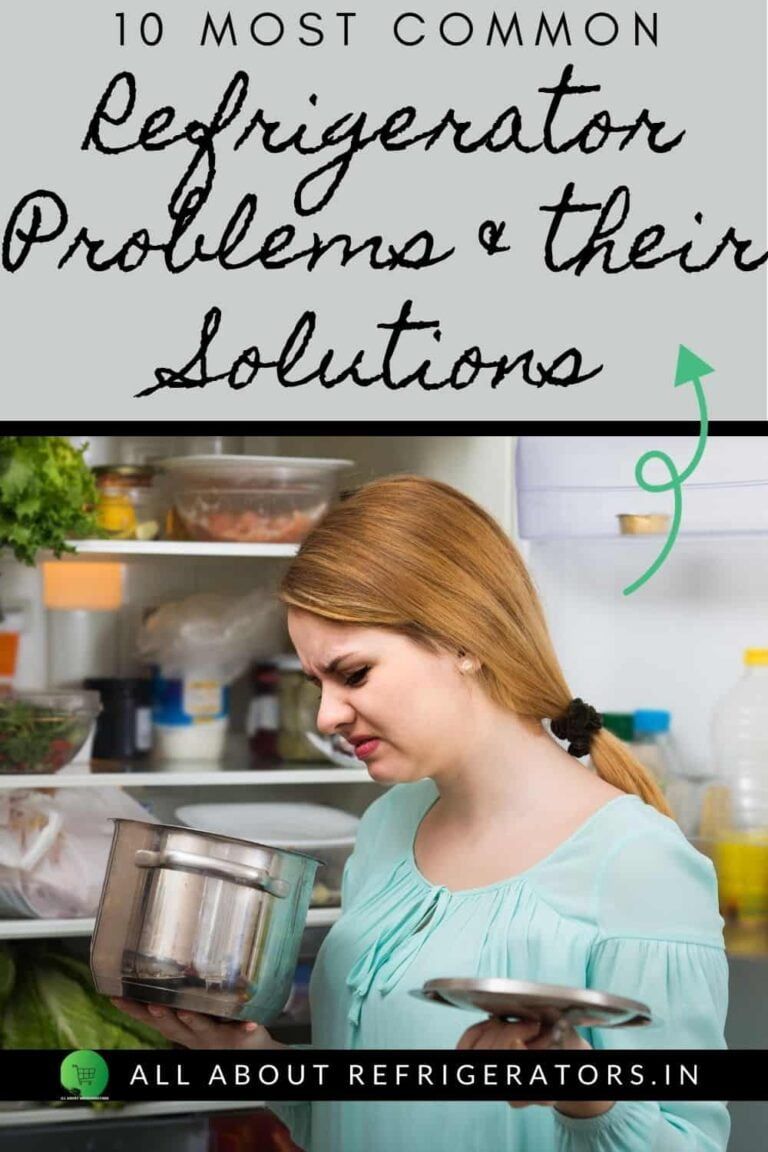 Hey Y'all, hope your home refrigerator is okay and functioning well. If Not, we are here to help you. To troubleshoot your refrigerator problems we have come up with the 10 most common refrigerator problems and their solutions.
A home without a refrigerator can not imagine nowadays, especially in urban areas. A refrigerator is the most common and the only way to keep your vegetables & fruits fresh for a longer time in the hot and humid summer season in countries like India.
There are plenty of common fridge problems that you can fix on your own without hiring any technician for that. Here in this article, we are going to share some DIYs to solve your common refrigerator issues.
So, keep reading this article to know some common refrigerator problems, which can occur in any type of refrigerator.
Here are the 10 Most Common Refrigerator Problems and Their Solutions
Problem 1: Refrigerator is not Cooling Properly
It is one of the most common refrigerator problems you ever heard of. It happens due to the dirt accumulating on the coils at the back or on air vents.
But, in some cases, the shortage of refrigerant or coolant can also be a reason behind this problem.
To fix the problem you need to clean your refrigerator condenser coil, which is located on the backside. But, before doing just unplug the refrigerator first. And, you can clean your refrigerator air vents with the help of a little wet brush or vacuum cleaner. It helps in making the refrigerator efficient & effective cooling inside the fridge.
If your refrigerator has a shortage of coolant issues, then refill it by contacting a technical professional for this.
Problem 2: Water Leaking from Refrigerator
Relatively, water leaking from the refrigerator is also one of the most common refrigerator problems but can be serious sometimes. There is a separate water line connected to the freezer, which transfers the water from the freezer after defrosting the ice. The leakage problem is often caused by the blocked, clogged, frozen, tearing, or breaking of defrost water drainage line.
The defrost water drainage line can be blocked for many reasons such as accumulation of dirt or leafy food waste.
If you detect that the drainage line is frozen or blocked, then you can apply some hot water to it. You can also leave your refrigerator unplugged for some hours.
You can also check while the refrigerator is unplugged if the defrost drainage line is torn or broken. If you found it, then you have to replace it.
If your refrigerator problem doesn't solve yet, then quickly consult a technician.
Problem 3: Refrigerator Produces Noisy Sound
Normally, the refrigerator makes little noise due to its compressor or condenser fan operations. But, it is tolerable and produces not that much strange noise.
But, if you experience your refrigerator producing too much noise, the problem is probably with its condenser fans or motor. It happens when a thick layer of dust accumulated on the fins of the fan. You can also check the motor of the fan if it is producing noise because of some fault or dirt.
To fixing this noisy problem with your refrigerator you need to clean your refrigerator condenser fan properly first. If still your problem is not solved, then check the fan motor and if it finds faulty, then replace it.
Problem 4: Build-up of Ice Layer or Frost in the Freezer
It is the most common refrigerator problem you generally found in Direct Cool refrigerator types. The main reason for the building-up of ice or frost inside the freezer is the convectional cooling process.
In conventional cooling, the air is moving according to the conventional current process. In the Convectional process, the cold air is moving downward, and the hot air is moving upward because it is lighter than the cold one, and the cycle goes on. There is no role of fans, which are used to spread cool air inside the refrigerator evenly. Hence, due to the absence of fans, the cold air is not distributed or spread evenly inside the refrigerator.
To conquer the frosting problem in your direct cool refrigerator, you need to find a defrost button first. Nowadays, most Direct Cool refrigerators come with defrost button technology in it. In this technology, pressing the defrost button will automatically enhance the temperature of your freezer and helps in melting the ice.
But, if your refrigerator doesn't have a defrost button, simply take all the food out from the fridge. And unplug your fridge for some time until the ice from the freezer is completely melted.
Problem 5: Water Dispenser is not Working
Is your refrigerator has a Water Dispenser? And if it is failed to provide you with cold water, then the main reason behind this problem can be its frozen water filling tube.
This problem can occur due to a faulty water inlet valve or an insufficient water supply. Accumulation of water minerals or debris inside the filter can also be a reason for water not dispensing.
By passing water through it, you can check the water-filling tube to find that it is really frozen. If the water is not passing through the line it means the line is frozen. You have to take a hairdryer to melt out the ice from the tube. For that, you just need to blow hot air on the pipe outlet or where you find it frozen.
To fix this problem, you have to repair your water pressure, but if the fault is in the inlet valve, then you have to replace it. And to avoid water blockages or clogging, you should have to clean or change your filter from time to time.
Problem 6: Ice Dispenser or Maker is not Working or Making Small Ice Cubes
Getting ice from the fridge becomes easier nowadays with the help of the ice dispensing feature of the refrigerator. But, with a lot of conveniences, there are a lot of issues as well, which you may have to face.
There can be many reasons behind your Ice Dispenser not working, such as a water supply connection, a water inlet valve, a water filling tube that may get frozen, or an ice maker getting defective.
To fix the issue you must first check if there is enough water flowing in your water supply line. And to find this you have to check the water-filling tube to see if it is frozen. If you find the supply line frozen, it means that the water is not flowing properly.
Therefore, to fix this problem, you need to replace or repair your water line or water supply valve. If still, the problem is there after doing all this, then the problem must be in its water inlet valve.
Do not try to repair or clean your old water inlet valve as this will not be sufficient to avoid the failure of its parts in the future. The best practice is to replace it with a new one with the help of a technician.
Problem 7: Refrigerator Door is not Shut Properly
It is another common problem of refrigerators that occurs over time. This problem generally happens when refrigerator door usage is too much. So, the reason behind this issue can be the accumulation of dirt or fungi inside the refrigerator gasket.
The easy solution for this problem is to remove your refrigerator gasket and clean it properly with water. After cleaning it make sure you dry it properly with a towel before installing it back to the refrigerator door.
If still your problem is not solved, then replace the gasket with the new one and install it.
Problem 8: Refrigerator Consumes A Lot Of Energy
This problem is found very often in refrigerators as it is one of the most energy-consuming home appliances. The reason behind this issue can be its compressor or the refrigerator unit is too old. Look in India refrigerator's energy efficiency capability is determined or tested by a government organization called BEE (Bureau of Energy Efficiency).
The BEE labels refrigerators and other consumer appliances with their star rating norms ranging from 1 to 5 stars. And the higher the star rating of a refrigerator, the more energy efficient it is.
There are two simple troubleshoots for this issue are:
First, invest your money to buy a new refrigerator with a higher BEE star rating. Second, replace your old conventional compressor with an inverter compressor that helps you in reducing energy consumption.
Problem 9: Refrigerator Getting Too Warm
Warming up of refrigerator is too normal, but if you found it excessively warm, then you need to check quickly.
You can check your refrigerator condenser coil that is it fine or not. If your condenser coils don't have any issue, then the evaporator fan's motor can be a cause behind this. 
Evaporator fan helps in blowing cold air inside the refrigerator through the freezer compartment. If your evaporator fan's motor has any defect, then it will unable to blow cold air inside your refrigerator efficiently. So, this problem can also be a cause behind the warming up of your refrigerator.
During the inspection of your refrigerator, if you find that the condenser coil is dirty, then to solve this problem, all you need to do is take a little wet cloth and clean it properly. And, make sure that you unplug the refrigerator's main switch before starting to clean it. If the problem isn't fixed yet after doing this, then you need to check your refrigerator evaporator fan motor.
If the issue is detected in the evaporator fan motor, then instead of solving this problem by yourself, take a consultation with a technician.
Problem 10: Refrigerator Freezing Food Items
If you find that your refrigerator freezing all your stored food, then the possible cause behind this problem can be your fridge Thermostat.
The thermostat is a device that controls the inside temperature of your fridge by controlling the voltage to the Compressor and its Evaporator fan motor. The formation of ice on your food items happens when the Thermostat is not working properly, which results in high consumption of power and the refrigerator running more than normal speed.
There can be two solutions to this problem, either you can repair it or replace it. You have to keep one thing in your mind this is the work of a technical professional. Don't ever try to do it yourself.
In conclusion of this article, I hope in this guide, you learned some DIYs for the Most Common Refrigerator Problems. But do not consider it as a final solution for your refrigerator.
If you find or it seems that your refrigerator problem is too complicated or big, then without any further delay consult any technical professional for it because avoiding such a problem can bother you in the future. A refrigerator is one of the most usable and important kitchens & home appliances of any home to which you need to pay attention.
But, one more thing we want to clarify here is that we don't guarantee that these DIYs will 100% work for your refrigerator problems. Therefore, if your refrigerator has any serious problems, then we always recommend you consult any technical professional for that. And, don't take any action until you have full knowledge about it.
So, keeping the refrigerator up-to-date is essential so that it will also assist you in return to fulfill all your refrigeration needs. If you want to replace your old refrigerator with the new one, you can check out our refrigerator review articles too.
Thank You For Reading!
Find this article helpful, then share it with your friends and family on social media. And if you have any suggestions regarding the same, then please let us know in the comments below.
Was this article helpful?