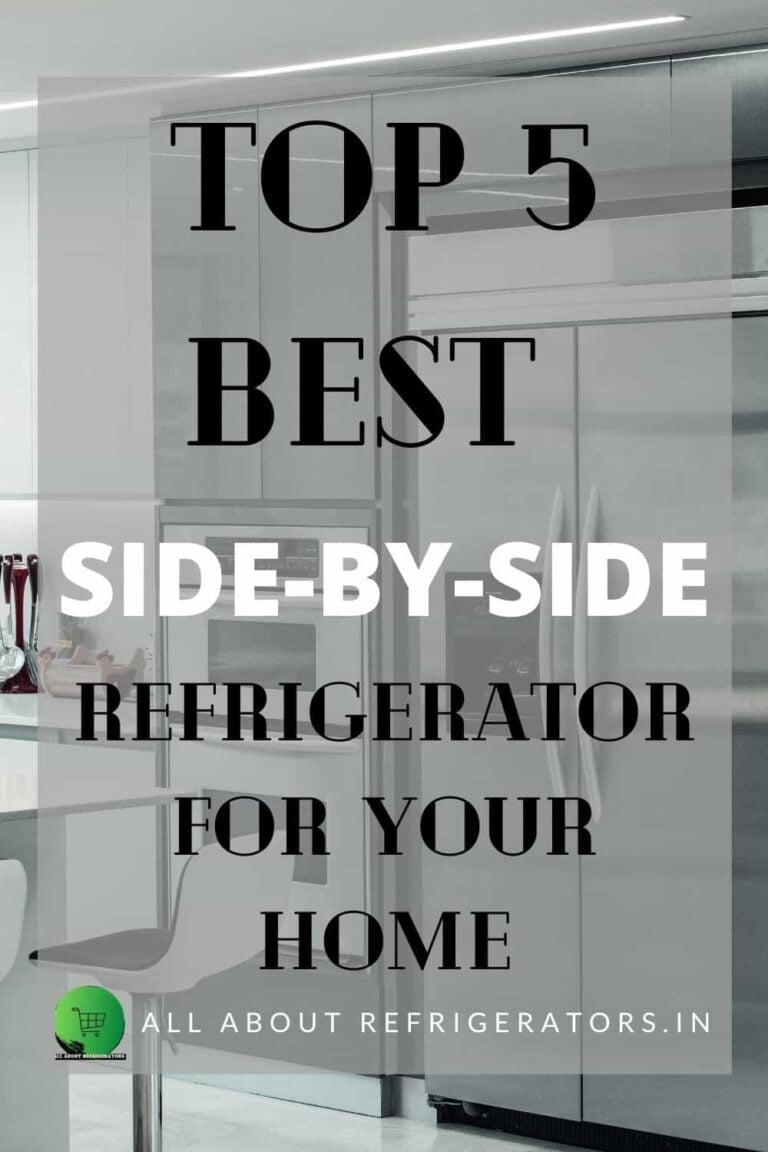 Hey Guys, I hope you all are good there. Wait, are you looking for a Best Side By Side Refrigerator in India 2023? If Yes, then this article is for you.
But, let's talk about the Side By Side Refrigerator first, it is not the most popular refrigerator type in India, but it offers you the best feature and technology along with ample space.
In this detailed article, you will get an informative review about the Best Side By Side Refrigerator with its Buyer's Guide.
With our extensive Buyer's Guide, you'll be going through all the crucial factors, which you should definitely consider while buying one.
Therefore, it is recommendable that you must read our buyer's guide before making any purchases of a side-by-side refrigerator for you.
Comparison List of 5 Best Side By Side Refrigerator
WARRANTY ON

Product / Compressor
Top 5 Best Side By Side Refrigerator In India 2023
1. Vertical Aligned Sections – In this refrigerator, you will get vertically aligned sections of the main fridge and freezer. On the left, you will get the Freezer section and on the right, you will get the Fridge section, which has more space than the freezer section.
2. Big Storage Space – It comes with pull-out drawers that are easy to access with large storage space. It also has multiple shelves that allow you to store your food with surplus space.
3. Child Door Lock – Fridge comes with a Child Door Lock feature that keeps the internal storage away from your naughty children. 
4. Multi Air Flow function – The multiple air vents helps in maintaining the optimum temperature inside the refrigerator for better cooling.
5. Moist Balance Crisper – This refrigerator comes with a uniquely designed lattice-pattern box lid or covers that help in maintaining optimum moisture inside the crisper box. With this, our vegetables and fruits remain fresh for a longer time.
6. Linear Compressor Technology – LG's Linear Compressor helps in save up to 51% energy (approx) and also produces very less noise.
7. Digital Panel – A user can easily monitor the inside temperature of the refrigerator with this digital panel.
1. Multi Digital Sensors – These Digital Sensors monitor the internal and external environment of the refrigerator. Through this, it helps in maintaining optimum cooling while the instant opening of the door. It adjusts the internal cooling as per the temperature of the external environment.
2. Inverter Linear Compressor – Just like the previous one this refrigerator is also equipped with LG's Linear Inverter Compressor. It saves up to 51% energy and reduces operational noise by up to 25%. This helps to reduce expenses on your monthly bills.
3. Smart Thinq Technology – The Smart Thinq technology of LG allows you to handle and control all your LG home appliances from anywhere at any time.
4. Multi Air Flow – With multiple air vents the airflow is great and spread evenly all around the refrigerator. That enables food to be fresh for longer hours.
5. Moist 'N' Fresh Technology – In this technology, LG's unique lattice design moisture control system helps in maintaining the proper balance of moisture by collecting excess moisture from the food.
6. Hygiene Fresh Plus – This technology helps in removing bacterial growth up to 99.9% and also minimizes the bad odor level in the refrigerator.
1. Twin Inverter Technology – This technology ensures that the fans motor and the compressor motor both run on variable speed and runs on DC current. This prevents it from the current fluctuations saves energy and reduces noise as well.
2. Smart Holiday Mode – No more worries about the fridge during your holidays because this smart feature of this refrigerator helps in maintaining stable temperature range, even if you don't present around the refrigerator.
3. Convenient Fridge and Freezer Ratio – The refrigerator is separated in (2:1) size ratio. Wherein the freezer covers 34% and the main fridge contains 66% of the total space.
4. Noise Control System – Haier's this smart technology helps in providing silent operation with the help of its inverter technology.
5. Super Cool & Super Freeze Technology – Want to get chilled food faster, this feature can help. With the super cool and super freeze technology you can cool or freeze every food item effectively and efficiently.
1. Convertibility Function – The convertibility feature of this refrigerator allows a user to convert its refrigerator's freezer into a fridge compartment. It maximizes the space during winter seasons or as per the needs of the user.
2. Twin Inverter Technology – Its twin inverter technology helps in running the electric fans and the compressor motor at variable speed and on DC current as well. That helps in reducing the energy consumption of the refrigerator and saves your money on electricity bills.
3. No Wall Partition – This refrigerator is separated horizontally instead of vertically, which allows a user to store large utensils and it helps to find the kept objects easily in your refrigerator.
4. Dual Humidity Zones – Haier provides dual humidity crisper zones that allow you to store two different temperature-type food items in the two different zones. You will get a Humid Zone on the left side and a Dry Zone on the right side of the refrigerator.
5. Smart Holidays Feature – The smart function of this refrigerator helps in maintaining a stable temperature range, even when you're not at your home.
6. Multi-Air Flow System – With this system, cool air spreads all around the refrigerator with the help of multiple air vents. These vents are situated over each shelf that enables even spread of cool air inside the refrigerator
1. View Inside the Refrigerator – In this refrigerator you can view the stored food items with the help of three internal cameras through the outer big wall screen or through a smart phone.
The food expiration date is automatically tagged. You can add items to your shopping list or include reminders. You can easily check what you have already while doing shopping.
2. Shop Efficiently Function – You can plan your meal and create a list of items you need with the shopping list application. You can simply use the refrigerator screen to add items to your shopping list.
If a recipe is recommended, any missing ingredients can be added with the help of touch or voice command.
3. Bixby Voice Assistant – Bixby is a voice assistant that can be usable when your hands are full, or you're craving cooking inspiration. Tell the Bixby, what you need and get better control of your home.
4. Facility to watch TV or Check Recipes – With the large screen mounted at the refrigerator door wall. You can enjoy your favorite daily TV and Mobile content while cooking. It can be display any whatever is showing on any Samsung smart TV or mobile phone.
5. Flexible Temperature Control – It will keeps your different foods items deliciously fresh in the flex zone. The independently controlled fridge drawer an extremely flexible storage space. You can convert it into four pre-set temperature zones with one touch.
6. Revolutionary Triple Cooling System – The Triple cooling system of this Samsung refrigerator independently controls and optimizes the temperature, maximizes humidity and prevents from odor mixing of the food items in 3 compartments.
A metal cooling plate also helps in keeping the internal air cool to maintain freshness of the food.
1. DIT Technology – Samsung's Digital Inverter Technology (DIT) saves more energy, reduces operational noise, and minimize natural wear and tear of the refrigerator. It automatically adjusts the speed of the compressor in response to the cooling demand across 7 levels of the refrigerator.
2. All-Around Cooling – This Samsung refrigerator comes with all-around cooling system. It all happened because of multiple air vents, which cool down the refrigerator evenly from corner to corner.
3. Deodorizing Filter – The in-built deodorizing filter eliminates the strong smell from inside the refrigerator and preserve the natural odor or aroma of the food.
4. Power Cool/Freeze – This refrigerator delivers a rapid cooling performance to preserve food's freshness, chill beverages, and make more ice by Power Cool feature. You can all this do just by pressing some buttons. It can chill your food in the fridge about 31% faster and the same with the freezer as well.
5. Space Max Technology – Its unique Space Max Technology makes it walls thinner as it uses a minimal amount of high efficiency insulation. It makes it more spacious without increasing its external dimensions or compromising its energy efficiency.
Buyer's Guide - Best Side by Side Refrigerator
First of all, lets start with a question, Why do you need of a refrigerator? The clear answer of this question is that there is no other way to keep our food stuffs healthy and fresh for a longer time. This is the only way, which is used very widely in all over the world nowadays.
Nowadays, a refrigerator is a mandatory and useful appliance of the kitchen in every home. It helps in keeping our fruits and vegetables fresh for a longer duration of time.
A refrigerator plays an important role in every home's kitchen because there is no other way to store and keep food fresh.
So, it is a very useful appliance nowadays. It prevents food to be perish by maintaining cooling around them and slow down the bacteria formation process around them.
For example: Suppose, If you have mistakenly left any food, let say, Cheese outside at room temperature, you will find that it will get spoiled in a short time. But, in the refrigerator, it will be fresh for a longer time, until 2-3 days.
If you are planning to upgrade your old fridge or buying a new one, then you must read our buyer's guide. In this comprehensive buyers guide, we will be covering every aspect, which you should keep in mind while buying a refrigerator.
How Does Refrigerator Work?
A refrigerator is a very common and useful electronic appliance. The main work of a refrigerator is to keep our food fresh & healthy by lowering the temperature inside the enclosed path.
By decreasing the temperature it slows down the effect of bacteria formation onto the food, which resulting long-lasting freshness. A refrigerator normally maintains the temperature around (0° to 5°C) in the fridge and (-18° to -23°C) in the freezer compartment.
Four main components that are responsible for refrigeration, namely (Compressor, Condenser, Expansion Valve, and Evaporator, etc.) that controls the whole process and maintain a cold environment inside the refrigerator.
A liquid type fluid called refrigerant moves through these four components again and again, and this cycle continues. A Compressor plays a most important part in this process, which is like the heart of the Refrigerator.
So, let's start the journey of the refrigeration cycle. It starts with the compression process, in which the compressor enhances the pressure and convert refrigerant into gas form.
In the next step, it reaches the condenser, in which it converts into hot fluid or liquid with the help of a cool air blower. In the next step, it passes through the capillary tube, and due to a decrease in temperature in it, it makes the refrigerant fluid or liquid colder again.
And, in the very last step, the cold refrigerant crosses through an evaporator in which it converts again into the gas form. Before exiting the evaporator, the cool gas absorbs all the heat from the refrigerator content and then goes to the compressor again.
This cycle of heating and cooling up of refrigerant fluid continues and maintains the coolness inside the refrigerator.
Single Door
Triple Door
Side by Side or

French Door
| Refrigerator Type | Capacity |
| --- | --- |
| Single Door | 150L – 250L |
| Double Door | 230L – 500L |
| Triple Door | 240L – 700L |
| Side by Side or French Door | 500L – 900L |
Factors to consider while buying a Best Side By Side Refrigerator in India 2023
What is Side by Side Refrigerator?
Capacities According to the Family Size
What is Frosting & Defrosting?
Difference between Direct Cool and Frost Free Technology
Important Features to consider
What is Side by Side Refrigerator?
A Side-by-Side Refrigerator is one that is best compatible with a family size of 7 members or more. It is a more expensive and less popular refrigerator type as compared to the Double or Single Door Refrigerator in India.
But, if we talk about the technology and features, it is far ahead of these two refrigerators. A Side by Side refrigerator is generally available in two designs namely vertical and horizontal designs.
It is a very spacious type of domestic refrigerator. Its alone freezer size is even bigger than the Single Door refrigerators.
Capacities According to the Family Size
It is the most crucial and significant factor in choosing the best fridge or refrigerator type, according to the size of the family. Because your refrigerator needs quite a larger space to organize, as compared to other appliances.
So, make sure that there is enough space to organize your new fridge in your home. Here is a specification table below, which shows the information that which refrigerator size is suited best for your family size.
| Family Size | Capacity | Refrigerator Type |
| --- | --- | --- |
| Bachelor | Less Than 200L | Single Door |
| Couple | Up to 250L | Single Door |
| Small Family (Couple + Kid) | 250L – 300L | Single or Double Door |
| Medium Family (Up to 5 Members) | 300L – 400L | Double Door |
| Large Family (5 to 7 Members) | 400L – 500L | Double/Triple or Side by Side Door |
| Xtra Large Family (More Than 7 Members) | More Than 500L | Side by Side or French Door |
Frosting is a common problem affecting in Direct Cool refrigerators in many homes. It is usually happens around the evaporator coil in the freezer compartment, where the air flow is inappropriate.
Due to uneven flow of cold air the water droplets are formed inside the freezer compartment. When the chilled air comes back to the freezer compartment then it converts water droplets into thick frozen layer. And that thick frozen layer is called as Frosting.
If we do not defrost the formed ice time to time, then it can affect the performance of the refrigerator.
Defrosting is the process of removing accumulated ice from the internal walls of the freezer. It is commonly occurs in the direct cool refrigerators such as Single Door refrigerator as we have discussed above. But, there are many methods we can use to remove it from the freezer.
First, we can left the refrigerator without power supply for some time until the ice does not melt properly. And, nowadays almost all single door type refrigerators come with a special button called defrost button. It helps in removing the ice without turning off the refrigerator.
And the most advanced technique used in refrigerators is called as frost free defrost system. It is commonly found in higher refrigerators types except single door refrigerators. In this defrost system, ice removing process is done automatically.
There are particular sensors that detects the frosting and remove it automatically by slightly heating the freezer back coil.
Difference Between Direct Cool and Frost Free Technology
| BASIS | DIRECT COOL | FROST FREE |
| --- | --- | --- |
| Defrosting Method | Required Manual Defrosting | Automatic Defrosting |
| Cool Air Circulation | Through Convection Current | Through Fans and Vents |
| Power Consumption | Lower | Higher |
| Cost of Power Consumption | Less (as compared to Frost Free) | More than the Direct Cool |
| Suitable to Family Size | 2-3 persons | More than 4 persons |
| Available in Refrigerator Type | Only in Single Door | Double/Triple/Side-by-Side or French Door |
Considerable Features While Buying a Side by Side Refrigerator in India
Auto Connect to Home Inverter – This feature allows your refrigerator to connect automatically to your home inverter during power-cuts.
Built-In Stabilizer – Nowadays, most of the refrigerators have come with the feature of a built-in stabilizer. It helps to maintain performance efficiently and prevent the refrigerator from a short circuit. There is no need to install an external stabilizer to control power fluctuations. It bears the power fluctuations under (90V∼310V) generally.
Toughened Glass Shelves – It is the most durable and popular shelf type today in the market. There are many types of shelves are available in the market such as wire type, tempered glass type, and plastic made, etc., but toughened glass shelves is the strongest one. It can hold the weight of 150 Kg approx.
Crisper – It is a space where fruits and vegetables are stored. As its name suggest that it helps to keep food crisp and fresh for a longer time due to present moisture control.
Chiller – If you are a meat lover then you can use this particular space for storing your fleshy items like meat, fish, and poultry items, etc. In this area, the temperature generally close to zero degrees Celsius, which keeps your carnivore food fresh for a longer time and it has a separate temperature controller as well.
Smart Inverter Compressor – Nowadays, almost all the refrigerators brands are providing this facility. It enhances the overall performance and efficiency of the refrigerator, which reduces the electricity bills.
Dairy Compartment – This compartment is specifically for dairy products like cheese and butter. This space has a little warmer temperature than other areas so that it keeps food items soft as they should be.
Bright LED Lights – Always ensures that your refrigerator must have proper LED lights installed for good and clear visibility inside the refrigerator.
Some Extraordinary Features of Side by Side Refrigerator that Enhances User Experience
Convertibility – This is the latest technology used in refrigerators nowadays. It helps users to manage the available space of the refrigerator. It means that if your fridge area is fully filled with food items and there is nothing space left to add more items then, you can convert your refrigerator's freezer section into the fridge by controlling the temperature and use it as a fridge. It's simple as that, no? And, after that you can easily restore your freezer by adjusting in temperature again.
Active Deodorizer – Deodorizer helps in maintain and preserve your food natural odor and intact all the flavors of your food. It removers the strong odor from the fridge by using its odor filter.
Smart Sensor Technology – It helps in increasing efficiency of your refrigerator by continuously monitor fridge from inside. It increasing and decreasing inner temperature as per the requirements. It also monitors hygiene level inside and outside the refrigerator so that it works properly and efficiently.
Smart Door Lock – This feature is a very useful in the Side-By-Side door refrigerator nowadays, because if you mistakenly left your fridge door open then, it will notify you by giving you alert notification in your smart phone.
In-Built Wi-Fi – It allows users to monitor what is inside the fridge. It also gives indication about your food freshness and also gives an alert about your fridge door with the help of concerned application in your smartphone.
Best Side By Side Refrigerators In India - FAQs
Q1: Why should an individual purchase a Side By Side refrigerator?
Ans: I know, these are the expensive refrigerator type. But, it compensates for all of its worth by offering you the best in class features and smart technologies with great space. Some of its features include a Water or Ice dispenser, Temperature Control panel or Screen, Multiple Air Vents, Spacious, Energy Efficient Sensors, etc. These features will raise the user's luxury or status and provide an excellent user experience.
Q2: What is Dispenser in Side By Side refrigerators?
Ans: A Dispenser is a section situated outside at the door of the refrigerator. It facilitates a user by providing cool water directly even without opening the door of the refrigerator.
Q3: What is Touch Digital Panel and How does it work?
Ans: Touch Digital Panel is a type of screen panel with plenty of touch buttons. A user can simply adjust the temperature of their fridge by just taping or touching the buttons on the panel. The main work of this feature is to help a user to set the desired temperature of their refrigerator.
Q4: What are the Smart Sensors?
Ans: Smart Sensors technology is used in refrigerators nowadays. It monitors the internal environment of the refrigerator and provides good efficiency to the users like it automatically adjusts the inner temperature as per the cooling demand of the refrigerator.
Q5: How many types of sensors are used in Side By Side refrigerators?
Ans: Normally, there are three types of smart sensors used in the Side By Side Refrigerator namely, Temperature Sensors, Proximity Sensors, Refrigerant Gas Sensors, etc.
Q6: What is the price range of Side By Side refrigerators?
Ans: Side by Side refrigerators are the expensive ones in comparison with Double and Single Door Refrigerators. The price range of these big-size refrigerators normally varies between the (40,000 to 300,000 rupees) range. But, it can vary with time.
Q7: In how many capacities a Side By Side refrigerators are available?
Ans: Generally, the Side by Side refrigerators are available in the range of (500L to 900L) capacities.
In the last, I would say that please make your purchases with proper consideration of your requirements because this can be an expensive deal for some buyers to buy a Side-by-Side Refrigerator.
A refrigerator normally serves you roughly for about 10 to 15 years. It is important that you don't make mistakes while purchasing an expensive one.
So, if you want to buy the best side-by-side refrigerator in India then, you must have to read our Buyer's Guide, which provides you with important information about refrigerators and helps in making the right and optimum decision.
Here, in this article, I have provided you with the Top 5 Best Side by Side Refrigerators list after doing proper research and analysis so that you get the best. In this article, I have tried to explain to you all with simplicity by writing short specifications and explaining key features with the pros and cons of each featured product.
Have a Good Shopping Experience With Us. Thank You for Visiting.
Was this article helpful?