Reading Time: 11 Minutes Only
Hey, have you never heard of convertible refrigerators before, or maybe you know a bit but want to know in more detail? In either of these cases, you will definitely get the answer to your query "what is convertible refrigerator" here, but make sure you stick with us till the end.
If we asked you a question, What does a normal domestic refrigerator look like? You would say that there are two separate sections in the refrigerator. One is for freezing, which is normally situated at the top and is called a Freezer. And, other is for keeping fresh food, normally bigger in size than a freezer and called a Fridge.
But, nowadays by focusing on consumer demand for energy-efficient refrigerators and increasing practicality in refrigerators, manufacturers invented a technology which is called convertible technology. In fact, it is more than a technology now and is considered a new category in the domestic refrigerator industry.
How would it be if you could convert your freezer into a fridge that allows you to store more of your fresh food inside the refrigerator? This will be very helpful in small get-togethers or functions in your home. Isn't it?
What is Convertible Refrigerator and How it Works?
It is a newly emerged refrigerator technology, which is not so new right now or we can say a new refrigerator type. As its name suggests, a convertible refrigerator allows you to convert its Freezer and Fridge sections to each other and control their temperature separately as per the requirement.
To make this more clear to you let's take a quick example. Suppose you have a large number of fresh food supplies at home and the fridge section is full. So, you can convert your freezer section to a fridge easily to store fresh food inside.
Similarly, you can do with the fridge section as well. And to save energy, you can also turn them off separately as per your requirements. For an instance, you can turn off your freezer section in the winter season.
We discussed, what a convertible refrigerator is, but do you know how it works?
An Evaporator Coil is one of the integral parts of the refrigerator and it is generally found at the top behind the freezer wall. And in the Convertible Refrigerator, this is the real game changer, which is used in both sections separately.
And because of this only, you're able to adjust the temperature separately in both sections and run them independently.
When we talk about the conversion process of a refrigerator, then it is not that hassle, nowadays. One can convert a refrigerator easily by choosing the respective mode with one touch, but it takes some time to get converted. So you do have to wait for some moments.
In the name of convertibility, companies have made many different convertible modes, which can be different from brand to brand. We will discuss them ahead in detail along with the respective brand.
But let us first discuss some of the benefits and drawbacks of a Convertible Refrigerator.
What are the Benefits of a Convertible Refrigerator?
Convenience to create more storage.
Most Importantly, it Saves Electricity.
There are Multiple Modes to help you out.
Easy to Convert & Shift from one mode to another with just one touch.
What are the Drawbacks of a Convertible Refrigerator?
Firstly, they tend to be a bit more expensive than normal refrigerators.
Not Quick Conversions, takes a significant amount of time during the conversion process.
Frequent conversions may result in higher energy consumption. In addition, there are modes that consume more power than the normal mode.
Convertible Refrigerator Technology From Different Brands In India
Some of the top refrigerator brands in India like LG, Samsung, Whirlpool, Godrej, etc., have their own variants of Convertible Refrigerators. But do you have any idea who introduced the Convertible Refrigerator Technology in India? It is none other than Samsung Electronics.
Samsung introduced convertible technology for the first time in India in the year 2016. After that, all the other brands like LG, Haier, Whirlpool, Godrej, etc., used this idea and launched their refrigerator variants.
Now let's discuss the convertible technologies from different refrigerator brands or companies one by one.
Samsung (5-in-1 Smart Convertible Refrigerator Technology)
With the 5-in-1 convertible technology, Samsung launched its first convertible refrigerator series in India. As its name suggests, this Samsung convertible technology comes in 5 different modes that you can use as per your preferences at any time.
Let us take a look at them one by one down below.
Normal Mode: In this mode, the refrigerator performs its normal functions or we can say its default functions.
Vacation Mode: When you going on vacation and need to store food in the Freezer. You just need to switch to Vacation Mode to keep the only Freezer On while the Fridge section is switched Off.
Extra Fridge Mode: With this mode, you will be able to convert the Freezer section into Fridge. This will be very helpful when you planning to organize a home party and you need a large quantity of fresh food to store inside the refrigerator.
Home Alone Mode: As its name suggests when you are alone at home and don't have much food to store. Simply switch to Home Alone Mode, where it switches off the Fridge and converts the Freezer into Fridge.
Seasonal Mode: This mode is specifically made for the Winter season when the Freezer is not needed much. So keep the only Fridge On and Freezer Off during winter by switching to Seasonal Mode.
In addition to the Smart Convertible 5-in-1 technology, Samsung has developed another convertible system for its lower-range refrigerators called 3-in-1 Convertible Refrigerator Technology.
Samsung (3-in-1 Convertible Refrigerator Technology)
In the 3-in-1 convertible technology, Samsung offers Normal Mode, Extra Fridge Mode, and Power Freezer/Cool Mode. Normal and Extra Fridge Mode we have already discussed above.
But when we talk about Power Freezer/Cool Mode, then it is useful when you want ice faster in the freezer and wants to cool fresh food & beverages quickly in the fridge compartment.
Haier (8-in-1 Convertible Refrigerator Technology)
Haier, a Chinese conglomerate also comes up with their two convertible technologies. One of them is 8-in-1 convertible technology, which you normally found in their bottom freezer double-door refrigerators. Let's take a look at them.
Normal Mode: It is a mode similar to what Samsung offered with the same name. In this, the freezer and fridge sections do their default task.
Veg Mode: The Veg Mode is similar to what we have discussed in Samsung's Extra Fridge Mode. With the help of this mode, you can convert your Freezer into Fridge, which enhances the space for your fresh food.
Home Alone Mode: Haier's home alone mode is a bit different from Samsung's. In this mode, the Fridge section is keep running while the Freezer gets switched Off.
Vacation Mode: When we talk about Haier's vacation mode, then it is similar to Samsung's Home Alone Mode. In Haier's Vacation Convertible Mode, the fridge section gets switched Off and the Freezer converts into the Fridge. Due to this, you can save power while enjoying your vacation.
Freezer Mode: In Freezer Mode, the freezer section stays On, but the Fridge will turn Off. This mode is similar to Samsung's Vacation Mode.
Surprise Party Mode: This mode is helpful when you want your food gets chilled faster. In this mode, the freezer compartment works to its full potential with the help of Haier's Turbo Icing Technology so that you get chilled food in a short time when you have a surprise party at home.
Summer Mode: In summer, we normally prefer to consume more liquid content. Therefore, with Summer Mode you can convert the Freezer into Fridge and the fridge runs at its full capacity.
Turbo Mode: As you can guess from its name, this mode enhances the overall performance of both the Freezer and Fridge sections of the refrigerator for quick icing and cold beverages.
As I said above that there are two convertible technologies Haier has developed the other one is its Swift Convertible 5-in-1 Technology. This convertible technology, they developed for their Top-Mount Freezer double door refrigerators line.
Haier (5-in-1 Swift Convertible Refrigerator Technology)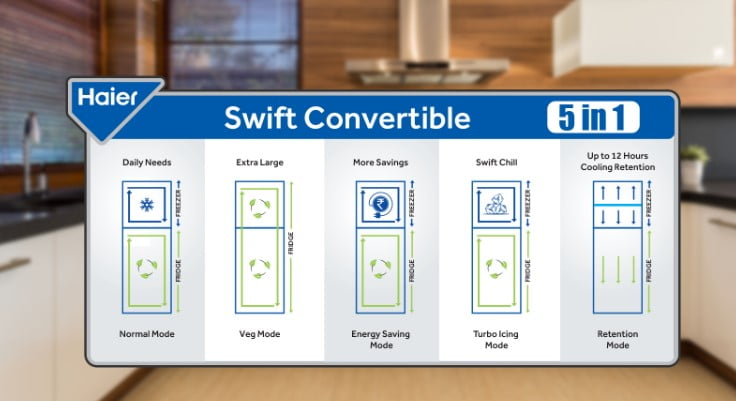 In Haier's Swift Convertible 5-in-1 Technology, there are modes like Normal Mode, Veg Mode, Energy Saving Mode, Turbo Icing Mode, and Retention Mode.
The first 4 modes of 5-in-1 convertible technology are already available in its 8-in-1 convertible technology. But we have found the Retention Mode unique among them, which provides up to 12 hours of cooling retention in both its freezer and fridge compartments.
Whirlpool (5-in-1 Convertible Refrigerator Technology)
Whirlpool is one of the most reputed refrigerators brands in India. Therefore, to follow the trend & counter its rivals, the company launched its 5-in-1 convertible refrigerator technology. Wherein you got the convertible modes like,
All Season Mode: The All Season Mode of Whirlpool works with help of its Adaptive Intelligence Technology. Where with the help of its advanced sensors, it senses the Load, Weather, and Usage Pattern to set the optimal temperature in its Freezer and Fridge compartments.
Chef Mode: With the help of Whirlpool's Chef Mode, you can save up to 23% of energy because it optimizes the internal temperature as per the usage pattern of the user.
Party Mode: In this mode, the Freezer and Fridge compartments work at their full capacity so that ice and food get chilled faster for the party.
Dessert Mode: This mode is fully concentrated on the Freezer Compartment. It prevents your dessert like ice cream or chocolates from crystalized ice, which can affect the taste of your desserts.
Deep Freezer Mode: If you want to keep your food frozen longer, then Whirlpool's Deep Freezer Mode can help. It optimizes the Freezer temperature as a Deep Freezer so that you can store your frozen food for longer in the freezer.
Apart from this convertible technology, Whirlpool launched its new convertible technology last year called 10-in-1 convertible technology. This technology is specifically launched for their bottom-mount refrigerators line.
Whirlpool (10-in-1 Convertible Refrigerator Technology)
The 10-in-1 convertible refrigerator technology consists of 10 different modes such as All Season Mode, Grocery Day Mode which is similar to Samsung's Extra Fridge Mode, Energy Saving Mode, Beverage Mode, Fast Ice Mode, Deep Freeze Mode, Chef Mode, Party Mode, Vacation Mode, and Mini Fridge Mode is like Home Alone Mode of Samsung where you can convert Freezer Section into Fridge and the fridge section remains off.
Out of these 10 modes, there are only two modes namely Beverage Mode and Energy Saving Mode are different.
Beverage Mode is used to chill your beverages like Cold Drinks or Water Bottles faster. On the other hand, the Energy Saving Mode is useful during the winter season when food isn't required that much cooling inside the refrigerator. So with this mode, the compressor runs a bit slower than normal, thereby it saves electricity.
LG (Dual Fridge Technology)
LG is one of the biggest rivals of Samsung, especially in India. Therefore, when Samsung announced its convertible refrigerator on the market. LG announced its own convertible technology called Dual Fridge Convertible Technology.
In the dual fridge convertible technology, you will only get two modes. One is Normal Mode (Default Mode) and the other is Freezer to Fridge convert mode. Like other brands, it does not come with the flexibility of multiple different modes.
Nevertheless, it does the basic function of Convertibility, but there is one major drawback is that you won't be able to turn off any specific compartment of the refrigerator, which proves to be helpful in saving power.
As we have covered almost all the things about convertible refrigerators, I hope your query about what is convertible refrigerator would be resolved. Apart from that, we also discussed different types of convertible technologies by different brands in India.
Where we found that most brands have developed more than one convertible technology for their different categories of refrigerator lines. Brands like Haier & Whirlpool have launched convertible technology with a wide variety of modes.
But, what do you think using these convertible technologies with multiple modes such as 8-in-1 or 5-in-1, or even 10-in-1 is worth? We can say that to some extent these can be helpful, but do they really needed? Share your thoughts about this by commenting down below.
And, a refrigerator having more convertible modes doesn't mean it is the best. Because the idea behind developing the convertible technology is to convert the freezer into a fridge compartment.
If this post has added at least 1% value to your knowledge, then don't forget to share it with your friends and family.
This is it for today. We will meet you in the next one,
Till then, Cheers!
Was this article helpful?